Veterans Day
Until 1954, Veterans Day was called Armistice Day.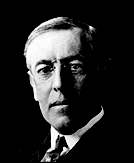 President Woodrow Wilson called for the creation of Armistice Day in 1919, one year after World War I concluded, and the day became a federal holiday in 1938. But after the the Second World War in 1945 a veteran named Raymond Weeks petitioned General Dwight D. Eisenhower to change the holiday to honor all veterans.
The idea made sense. World War II involved a far greater mobilization of the country's resources than World War I, and in the end nearly four times as many Americans lost their lives in the conflict. Nine years and the Korean War later Eisenhower, then president, signed Veterans Day into law.
Armistice Day, also known as Remembrance Day, is still a big deal in the United Kingdom, where citizens pin poppy flowers to their clothing in homage to the John McCrae's iconic "In Flanders Field" poem.